A DREAM COME TRUE – DORMIENS EST SOMNIUM
The roots of Forest Village Theodosius lie in a deep-seated respect for nature. The meticulous placement of our wooden cabins and their contemporary design blend and combine perfectly with the rocky terrain below them. Nightfall brings a peaceful slumber, followed by a one of a kind awakening in the middle of pristine nature.
The furniture, made by local craftsmen, offers superior comfort and brings great aesthetic pleasure. To add to this luxurious experience, some of our cabins even offer a sauna and an outdoor hot tub. Relax on the terrace by our vineyard and enjoy the wonderful smells of pine trees and everything else nature can offer. Bask in the warmth of the sun and listen to music with no unwanted noise. Let your mind wander off. Take a break and enjoy yourself.
Time for some daydreaming!
FOOD AND WINE – CIBUS ET VINO 
Wake up to the wonderful smell of coffee wafting from the nearby restaurant Theodosius. Enjoy your breakfast there or right on your terrace and start your day off right. 
Seize the day – carpe diem! Any way you want to.
Let our chefs spoil you or visit other nearby restaurants and try out the local cuisine, coupled with the exquisite wines of the Vipava Valley. Let your taste buds do the talking!
The power of the sun and the earth is fuel for our bodies! 
The power of the sun and the earth is fuel for our bodies!
Room description
UNIQUE spruce FURNITURE from Nanos forests
TOILET, SINK, SHOWER
VENTILATION, AIR CONDITION SYSTEM, floor heating
Fridge,, cofee maker, water heater
Wireless internet, television, sef
TOWELS, SOAPS,
BLOWDRIER
ROOM DIMMING
LIVING ROOM  (common use for private or business purposes)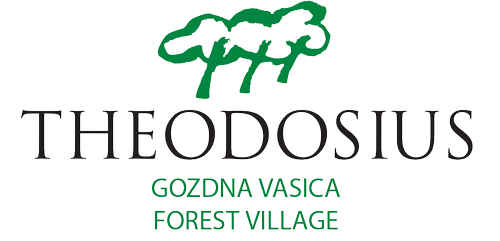 Subscribe to our newsletter
THEODOSIUS 
FOREST VILLAGE
Vrhpolje 165
5271 Vipava
Slovenia
Photos by: Theodosius d.o.o. & TIC Ajdovščina
Photographs: Saša Manojlovič, Marijan Močivnik, Jan Skočaj, Jan Čermelj, Jurij Lavrenčič
General Terms and Conditions